Exploring Santa Fe's Galleries & Museums
It's a wintry Santa Fe Sunday – time to get out and shake off those cold-weather blues! Here's your ticket to creative and culinary civilization and an excuse to walk, see what's new, and breathe in the crisp, clean air. These four different walking tours of Santa Fe encourage you to enjoy a pairing-up of the City Different's galleries/museums with a restaurant, to help jumpstart your mood and rekindle your spirit.


Sunday Afternoon 1
LewAllen Galleries, Santa Fe Railyard
The Railyard
Ever eclectic, the Railyard continues to make good on its promise as the Alternative Plaza, and stalwart first adopters to the area, such as TAI Modern, LewAllen Galleries, Evoke Contemporary, and Blue Rain still shine as the district's core cluster of urbanesque galleries in which to experience vibrant, cutting-edge art.


Start your exploration at
TAI Modern
, on the corner of Paseo de Peralta and Guadalupe, which features a mix of contemporary American art – along with modern bamboo sculptures, fine art baskets, and beautiful contemporary photography from Japan. The exquisite craftsmanship and intricate weavings will seriously expand your conceptions of what basketry and bamboo are capable of as an art form.
Next, we segue to the more overtly political art at
Evoke
curating "provocative and compelling contemporary art of international acclaim." From the gorgeous, transcendent photography of Carlos Maier (Nov. 29 – Dec. 21) to the compelling drawings of Ciudad Juárez narco-violence by Alice Leora Briggs—along with many other international artists—Evoke simply, evokes.
Next door,
Blue Rain Gallery
displays a goodly amount of Native artists (glassworker extraordinaire Preston Singletary, and veteran potters Jody Naranjo and Tammy Garcia), along with two socially aware, "power-to-the-indigenous people" painters: Jim Vogel and Erin Currier (among many others). Next, meander back to Paseo and walk down to
LewAllen Galleries
—just as cutting-edge, though not as socially strident or political, but full of pieces that are beautiful and challenging.
Head back up Paseo and turn left at the railroad tracks: time for some modern sustenance. Equally eclectic, and usually bustling like a Santa Fe version of Grand Central Station,
Violet Crown's
rusted facade welcomes filmgoers, beer aficionados and food lovers alike. Catch the urban vibe and order from a selection of top-notch pizza, polenta, salads, burgers, wraps, desserts, and maybe a beer or some wine—whatever refuels your soul. Sure, you've been here for movies, but the food, people energy, and the arty, down-to-earth atmosphere make for the perfect conversation catalyst. "So what did you think of that one intense piece…"
Sunday Afternoon 2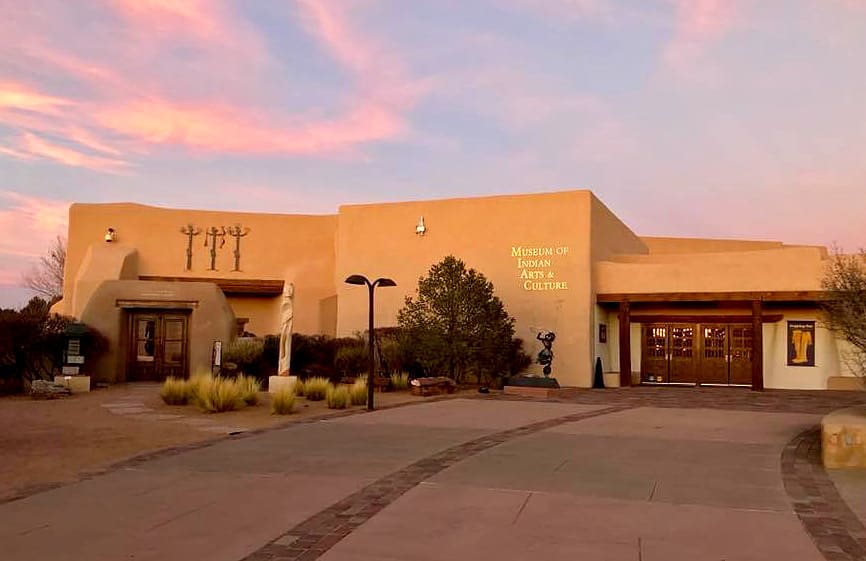 Museum of Indian Arts + Culture
Museum Hill
Museum Hill
offers a one-stop destination to explore four distinct museums, and they're all perfect for a weekend visit. Especially on the first Sunday of each month when admission is free for New Mexico residents. All four are within several hundred feet of each other, with the ever relaxing Santa Fe Botanical Garden right across the street.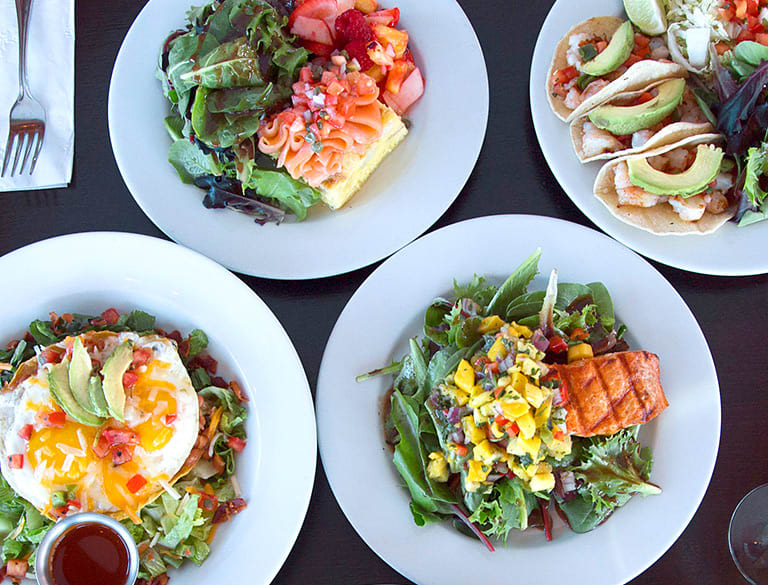 Museum Hill Café
The Wheelwright has two exhibitions opening almost simultaneously this winter: Laughter and Resilience: Humor in Native American Art, which is self-explanatory; and Conversations: Artworks in Dialogue, 320 pieces from the collection of Daniel Prall (a great intro to Native art of the past 50 years). At the MIAC, Diego Romero vs. The End of Art covers the California-born, Cochiti Pueblo, New Mexico potter's work in all its biting hilarity and mordant observations of Native/American life. Both shows not only exemplify the many ways in which Native artists incorporate their particular cultures into their work, but also how they work their artistic visions into the overall culture and the predominantly non-indigenous art world.


Once you've sated yourself on all things Diego (and Native wit), the
Museum Hill Café
cannot be denied. Aside from the Asian shrimp tacos, the feel here is more bistro-y, with a bit of Southwestern fare. The Asian tacos are wonderful, but might we recommend the pollo bowl, along with the sweet corn custard. This is cold-weather comfort food at its most refined, as calming with a tart Arnold Palmer as with a Torronteés wine from Chile (or any of the many other great wines). It's a relaxing stop between museums, or simply a civilized way to end an afternoon of cultural adventure, especially if there is a pianist in the corner, with gently wafting notes lingering in the air around you.
Sunday Afternoon 3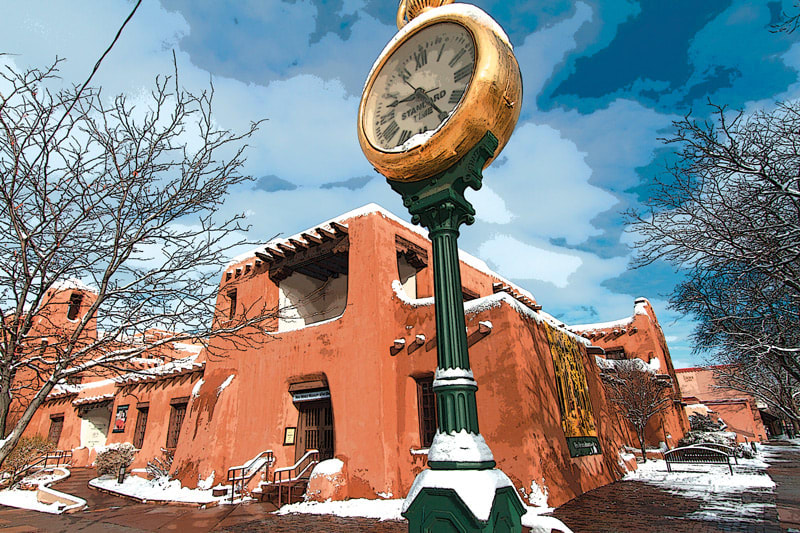 New Mexico Museum of Art, Santa Fe
Downtown Santa Fe
Running from late January to mid-April, the former will be exhibiting "The birth, death and resurrection of Christ: from Michelangelo to Tiepolo, 53 drawings and prints from the British Museum."


Only a few blocks away, seemingly just a paean to all things O'Keeffean, the O'Keeffe does a fine job of incorporating what and how the environment, people, and other artists from all over influenced the great lady—and vice-versa. Even if you're not religious, the New Mexico Museum's exhibit will get your respect; and even if you're not an O'Keeffean zealot, her namesake operation demands equal reverence.


And while one choice to retire to afterward would be the resurgent
Santacafe
, the subtler tie-in is
Eloisa
, the ultra-contemporary, very sophisticated home of "Modern Southwestern Cuisine" located in the Drury Hotel. It just so happens that Eloisa's chef, the James Beard nominated John Sedlar, grew up in New Mexico. And his restaurant's namesake and inspiration? It would be his late great aunt, who just happened to cook for…a certain Georgia O'Keeffe.
Sunday Afternoon 4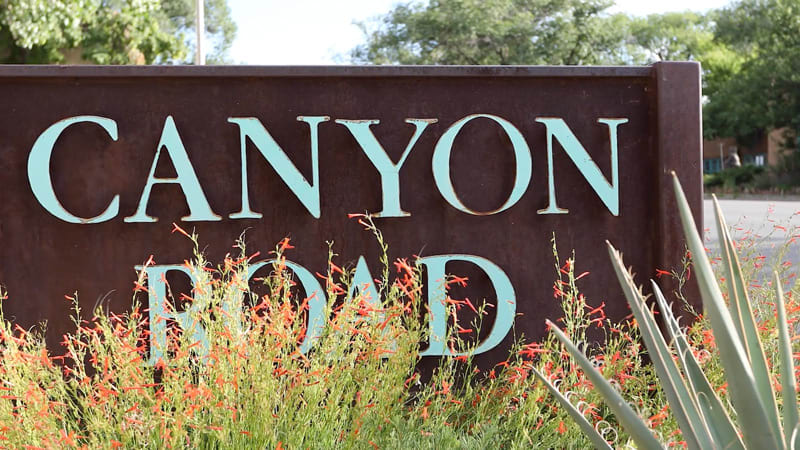 Canyon Road
Canyon Road
Still the destination for art of all kinds, as well as home to two of the city's longtime destination restaurants – the Compound and Geronimo –
Canyon Road
is never the same destination twice. Interestingly, while restaurants can pass down their culinary secrets, galleries really can't. And at the moment, many of the galleries that once made Santa Fe famous, have moved on. So Canyon Road is in a bit of transition right now – a shift in identity if you will, while at the same time offering a diverse sampling of intriguing art.
Since you're walking, park your car at the lower mouth of Canyon, and start with the tried-and-true:
McLarry Fine Art
(which favors Western art but also features several nice representational artists) and the Meyer Gallery (featuring a mid-December show of Jhenna Quinn Lewis' paintings: sort of two-dimensional versions of Joseph Cornell's boxes).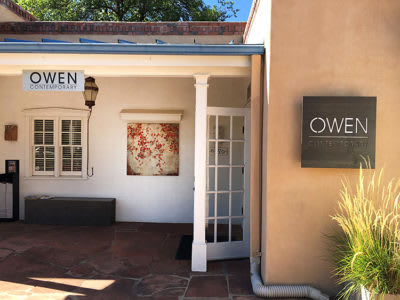 Next, try one of the newcomers,
Owen Contemporary
with a solemn blend of abstract and landscape painters at 225 Canyon. Another few blocks and you're in the midst of our next stops:
GF Contemporary
(with collagist Kathleen McCloud, the fine pencil illustrations of Clayton Porter, and the mixed-media works of Brian Singer); its sister gallery
Giacobbe Fritz Fine Art
which presents a midwinter Small Works show; and
Modernist Frontier
(featuring primarily two New Mexicans: expressionistic painter Jono Tew and the equally trippy photographs of Cody Brothers).
Behind them all, if you just can't resist, awaits
The Compound Restaurant
. Go ahead, have a bite, have a drink. (Try the chicken schnitzel and a seared rare tuna Nicoise.) Moving on, veteran gallery
Turner Carroll
(with the slightly surreal works of Suzanne Sbarge through mid-December) and the upstart-y Globe Fine Art (a jaunty mix of abstract, realist, and playful Pop) round out the afternoon's mix. If you're too early for dinner, no worries.
Geronimo
has a Fujasaki Asian pear salad and Kobe beef sliders that exalt.
It may be winter in Santa Fe, but getting out to drink in the aesthetics, and savor the flavors of living here, is a welcome excuse to remember why we stay. And eclectic Canyon Road epitomizes this walking/viewing/eating experience we love.


Ready to move to Santa Fe or move up to a new home? Find out for yourself how Darlene can make the process of buying or selling your home one of ease and success. Call or text Darlene today at 505.920.8001 or email her directly at dstreit@dstreit.com.