About Santa Fe, New Mexico
Santa Fe, New Mexico, is a major attraction to luxury home buyers due to the incredible weather, abundant arts, excellent golf courses, culture, world-class dining, and easy access to winter skiing.
Santa Fe Weather
More than 310 sunny days a year make Santa Fe an excellent environment to live in. Santa Fe is blessed with comfortable summer days and cool summer nights, accompanied by stunning sunsets. It is rare to see a summer day higher than 90 degrees. During the winter there are 6-8 snowfalls that make for excellent ski conditions at Ski Santa Fe. Santa Fe's air is healthy to breathe because of the smog-free blue skies and low humidity.
Santa Fe Arts
Santa Fe is considered one of the greatest art cities in the world due to the hundreds of artistic galleries, experiences, and festivals. The variety of art is also a major draw for tourists around the world.
People come from all over the world to visit (or train at) the world-renowned Santa Fe Opera. Since the 1950's there have been more than 2,000 performances, 16 world premieres, and 170 operas. According to TIME Magazine, the Santa Fe Opera is "one of the handsomest operatic settings in the Western Hemisphere."
​​​​​​​

The world-class multi-million-dollar Meow Wolf interactive experience has been such a major hit that it is expanding throughout the United States.
​​​​​​​

Canyon Road is one of the most incredible art districts in the world with more than a hundred art galleries and studios offering an abundance of diverse art. The annual Canyon Road Farolito Walk on Christmas Eve is a major draw due to its uniqueness and artistic beauty.
The art galleries in Santa Fe don't just serve visitors and locals. Major art collectors throughout the world have relationships with art gallery owners and artists in Santa Fe.
Santa Fe Golf Courses
Whether a novice or expert, you'll find an excellent array of incredible golf courses in and near Santa Fe. Each mountain and high-desert golf course offer some of the most incredible views (like Marty Sanchez Links de Santa Fe with 360-degree panoramic views of the Sangre de Cristos, Jemez, Ortiz, and Sandia mountains.)
​​​​​​​

This is what Golf Digest says about golfing in Santa Fe:


"Arnold Palmer famously said, 'What other people may get from art or museums, I get from the flight of a good drive.' In Santa Fe, N.M., you can have both. The art market ranks behind only New York and maybe San Francisco for the largest in the nation. And with an elevation of 7,000 feet and perpetual sunbaked weather, the air's so thin you might well hit the longest tee ball of your life… The golf happens to be terrific, inexpensive, and the fact it's a small part of the city's tourism adds to the appeal."
Santa Fe Culture
Santa Fe has one of the richest cultures (and history) of any city in the United States. Santa Fe is the nation's oldest capital city. The city has seen a rich blend of Anglo, Native, and Spanish cultures. Santa Fe is brimming with creative people, artists, chefs, writers, photographers, musicians, and singers. Hundreds of art galleries, restaurants, and museums provide a hands-on education of the strong culture.
In the book, "The Rise of the Creative Class," author Richard Florida observes, "Santa Fe has more cultural assets per capita than any other city in the United States."
Santa Fe Dining
The culinary scene in Santa Fe is perfect for food lovers and those who enjoy fine dining. Santa Fe is home to many award-winning restaurants and food experiences.
Perhaps the Santa Fe New Mexican put in best in a Culinary Musings column where writer Tantri Wija stated:
"Paris may be for lovers, but Santa Fe is for eaters. The ratio of notable restaurants to avid diners in this town is high, even if you count the tourists, and Santa Fe is a destination city as much for its food as for its art and excellent weather."
Santa Fe Accolades
Santa Fe is often awarded top city honors by publications and visitors. In 2020, Travel+ Leisure named Santa Fe the third Top City in the United States. AFAR Magazine named Santa Fe the Third Best Small city in America. Conde Naste, in 2019, called Santa Fe the second top small city in America. Sunset Magazine named Santa Fe the Best Art Town. Every year Santa Fe gets dozens of awards for its art, experiences, dining, and lifestyle.
World Class in Every Measure
Santa Fe is not merely an outstanding place to visit but an unparalleled city to call home.

"For a town designed to blend in—a city ordinance requires that buildings look like earthen adobe structures—Santa Fe sure stands out. It's hard to be inconspicuous when you're a 7,000-foot-high state capital with 300 days of sunshine, an adjacent 350-square-mile wilderness area, and five French bakeries. The air is clean, the sky is large, and the outdoor recreation is endless."
In 2017, Outside Magazine, one of the most widely respected publications in the travel industry, wrote a feature on America's Best Towns. In the piece, they highlighted Santa Fe and wrote the above. Few descriptions capture the uniqueness of Santa Fe better than what they've written, but it only tells part of the story.
Relatively speaking, Santa Fe is a small, under-the-radar kind of place. Okay, maybe not that under the radar, but matched up against more prominent West Coast destinations, or the flashy hotspots of Las Vegas or Colorado's many resorts, some might lose Santa Fe in the shuffle. After one day in and around town, they'll never make that mistake again.
Santa Fe achieves that most coveted of feats—a resort town with all the qualities of home, a hometown with all the qualities of a resort. It's a world-class lifestyle in every measure.

Whether you're a first-time visitor or a long-time resident, it's easy to understand why.
Top Cities in the U.S., No. 3—Travel + Leisure Magazine, 2020
Best Small Cities in the U.S., No. 3—AFAR Magazine, 2020
Best Places to Live and Work as a Moviemaker, No. 3—Moviemaker Magazine, 2020
Best Art Town, Top Pick—Sunset Magazine, 2019
Top 10 Small Cities in the U.S., No. 2—Conde Nast, 2019
Top Cities for Women Entrepreneurs in the U.S., No. 3—Pennygeeks, 2019
Best Little Cities to Live if You Love the Outdoors, No. 4—Marketwatch, 2019
Best Places to Get a Fresh Start, No. 9—Liveability, 2019

The list of accolades above would prove an impressive set of distinctions for any city. After all, it's hard to argue the appeal of a place that offers an ideal environment to live, work, and play.

For Santa Fe, those eight rankings represent just a small fraction of the honors and recognition of this capital city of fewer than 100,000 citizens. Over 100 titles from publications, websites, and media outlets across the country demonstrate why Santa Fe is one of the best cities in the U.S.

Many Reasons to Call Santa Fe Home
Arguably its most charming allure is the area's deep devotion to its culture. It's a commitment that strives to honor the area's historical heritage, its roots dating back over 400 years. It celebrates both Santa Fe and New Mexico's Mexican, Native American, and Spanish influences and its status as an enclave for creativity.

The city is home to over 25 museums and 250 galleries. Each offers a window into Santa Fe's remarkable footprint in the world. A few of the best include the , the , and .

The culinary scene is equally impressive and stands as one of North America's top overall food destinations. Unsurprisingly, the upscale southwestern fare is the standout here, but creative, international flavors also abound.

Santa Fe also features a one-of-a-kind shopping experience. Though there's plenty of big-name brands to satisfy your major label needs, the roster of boutiques is the real find. With many set in historically significant buildings, the local shops specialize in handmade goods—clothing, accessories and housewares, and jewelry.

For those with an active streak, there are few cities as spectacular. Boasting 320 days of sunshine and the full complement of seasons, if you have a pursuit, Santa Fe has a place and time to pursue it.

Hike or bike on some of the nation's most sought-after trails, including those in the Sangre de Cristo Mountains. Raft the nearby Rio Grande or ski the adjacent slopes or those further north in Taos. And for those wanting something a bit more traditional, golf and equestrian activities are always on the menu.

A City Different in a Land of Enchantment

Santa Fe is indeed a special place. It's rustic and remote but with a refined and distinctive cosmopolitan personality.

It's teaming with luxury accommodations, upscale neighborhoods, and high-end estates. It is also quirky and idiosyncratic. Those with deep pockets arrive for peace and privacy. Artists flock to the area for inspiration. Everyone else travels here for the festivals, culture, and blue skies, and perfect weather.

Ultimately, Santa Fe proves a rarity among American cities. When you're here, you never want to leave. When you're not here, you're yearning to find your way back. If you're ready to put your longing to rest, now's the time to make Santa Fe your home.

Neighborhoods of Santa Fe

Although Santa Fe claims gorgeous homes, stunning landscapes, and plenty to see and do, the city's distinctive neighborhoods are the real star of the show.

There's little doubt that Santa Fe is a remarkable city to call home. Unique, upscale shopping opportunities are abundant. Exquisite dining is sure to satisfy the most discriminating palette. It's also home to a rich cultural tapestry; the arts are a central draw for many that relocate here.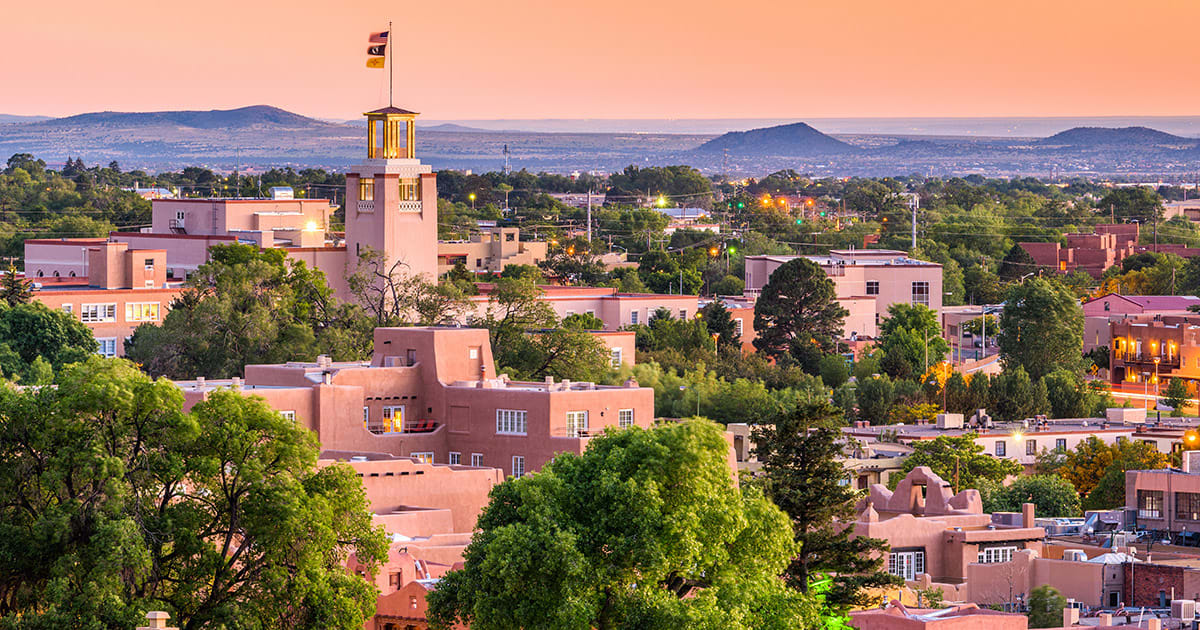 And we must not forget the bevy of outdoor pursuits. You have direct access to hiking, biking, rafting, skiing, golfing, and equestrian activities in Santa Fe—and that's without using your imagination. It's a literal playground for those seeking an active lifestyle amidst the city's stunning southwestern environment.

Yes, all of the above make Santa Fe an outstanding area to return to time and again. Whether you claim it as a permanent residence or opt for a second or third home when you're here, you never want to leave; when you're gone, you always yearn to return.

Santa Fe's greatest attribute, however, is perhaps its most overlooked—its neighborhoods. There are over 20 luxury communities from which to choose. Each one offers its own unique lifestyle and amenities and serves as the anchor for some of the city's most stunning homes and grand southwestern estates.

The Outdoors as Community Center

Whether it's Bishop Lodge Hills in the foothills of the Sangre de Cristo Mountains, the faraway-yet-so-close vibe of Santa Fe Summit or the quaint village aura of Tesuque, Santa Fe's outlying communities are an ideal landing spot for those wanting to absorb themselves in the area's otherworldly landscapes.

Each of these neighborhoods, and others like them, including Cerros Colorado, Sangre De Cristo Estates, Hyde Park Estates, and Monte Sereno, offer impeccable homes, spacious homesites, stunning views, and direct access to Santa Fe's vaunted outdoor lifestyle.

In the Middle of the Action

Although rustic luxury with open space to spare is a dream for many, others prefer the convenience of being near the heartbeat of Santa Fe. This includes rubbing shoulders with the city's top restaurants, boutiques, and art galleries.

Neighborhoods such as South Capitol, Museum Hill, and Sol Y Lomas offer the best of all worlds in Santa Fe. You'll never be closer to some of the city's best dining and entertainment or its renowned museums.

For art lovers, Upper Canyon Road is a particular favorite for proximity to some of the best art galleries in town.

Historical Roots

Of course, with a history that dates back over four centuries, Santa Fe has plenty to offer for those who appreciate a little antiquity with their long-term accommodations. Guadalupe Historic and Railyard District feature renovated abodes a short walk to Santa Fe's renowned Plaza.

For those wanting a fully immersive experience, the Historic Eastside should be the beginning and end of your home search. Featuring adobe homes, high walls, narrow roads, and lush gardens, the neighborhood is a genuine treat and truly old-world authentic.

There isn't a wrong choice when choosing your dream home within one of Santa Fe's celebrated neighborhoods. It comes down to the right choice for you.

Santa Fe is often referred to as "The City Different." This distinguishing phrase is a testament to the strong diversity of native tribes, art galleries, museums, people, artists, food, festivals, and experiences. It's an attractive place to visit and an even better place to live.
As a Santa Fe resident since 1990, Darlene Streit understands the options you have and the appeal of each. She and her brokerage team will ensure you identify the right home and the ideal community to suit your lifestyle.
If you are looking to make the move to Santa Fe, New Mexico, then contact Santa Fe's top Broker, Darlene Streit, at 505.920.8001 or dstreit@dstreit.com.