Whether you're a resident or visitor in West Palm Beach, Florida, you'll love the chance to unwind at a relaxing local spa. Visit these ten fabulous West Palm Beach spas for some pampering by the ocean!
The Spa at the Breakers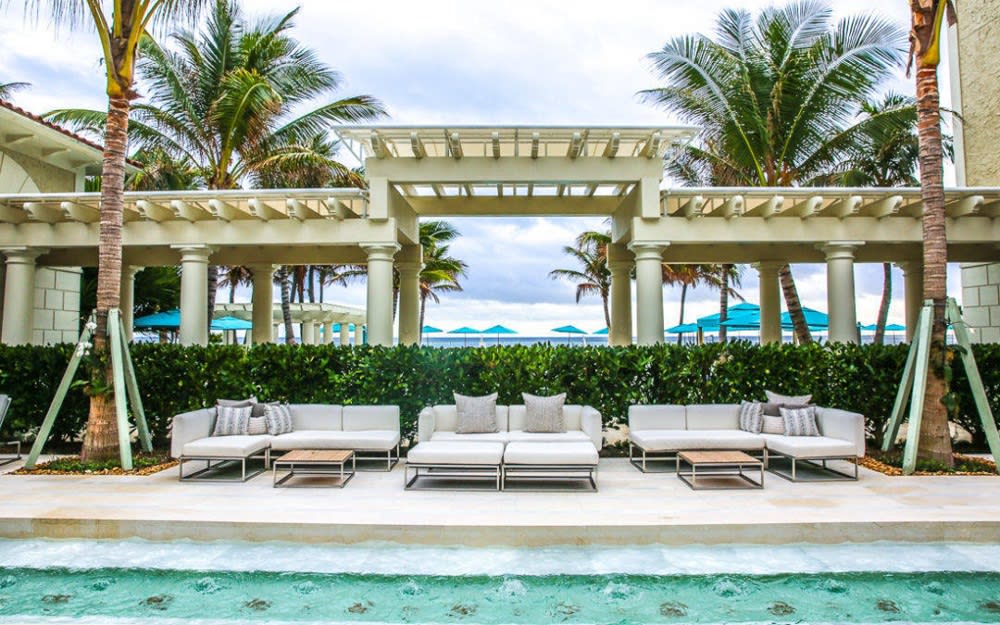 Photo Courtesy of Luxe Recess
Unveiled in 2015,
The Spa at the Breakers
offers an exclusive spa experience for families and friends. This spa is well known for its exquisite architectural grandeur inspired by Italian Renaissance buildings, yet married with the modern Italian feel of the West Palm Beach area.

Restore your balance with tailored massage sessions that come in three options — custom, couples, and maternity — for your own special experience. When it comes to facials, visitors can choose a rejuvenating treatment from two selections: Black Orchid Treatment and Orchidee Imperiale Prestige treatment.

For nail treatment, there are various specialty services, including the culture manicure, anti-aging manicure, gel manicure, or deep-sea pedicure. End your visit with glamor finishes and touches for your hair and even pamper your child with Spa Petite. These services are paired with high-end tranquility in an exquisite indoor and outdoor setting.
Eau Spa at Eau Beach Resort & Spa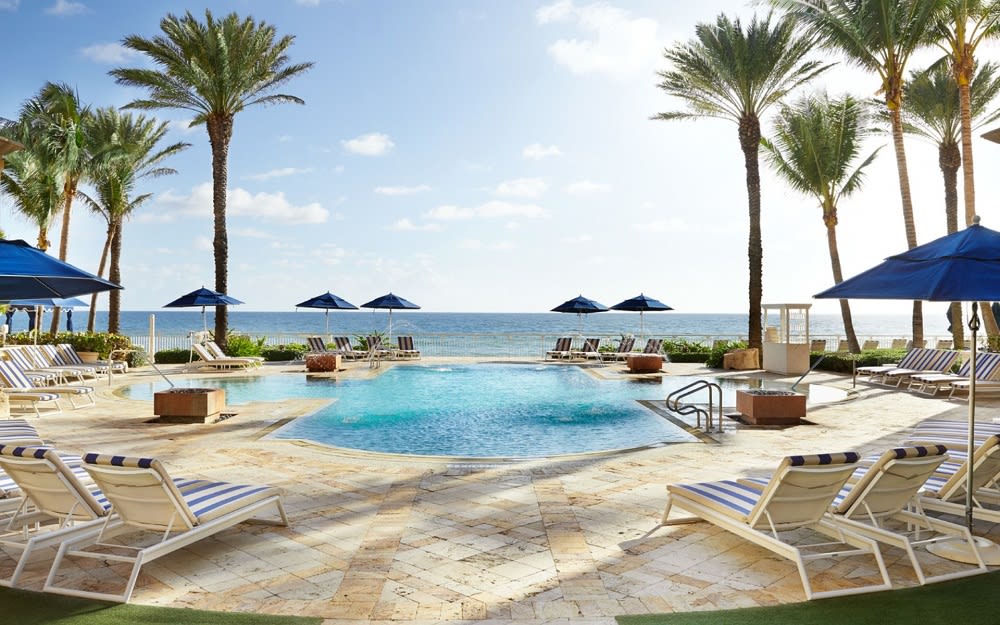 Photo Courtesy of Palm Beach Illustrated
This spa is defined by its mantra, "pause, play, perfect." Experience a fairytale wonderland in the magical paradise of
Manalapan's Eau Palm Beach Resort & Spa
. This five-star, 42,000 square feet destination caters to those who relish elevated enjoyment. Indulge in pampering relaxation activities in its 19 treatment rooms, and drift away in a fantastic garden appointed with swinging lounge chairs, cabanas, and dipping pools. Other amenities include an oversized Jacuzzi, steam rooms, scrub and polish bar, and more.

Begin your relaxation journey by floating in the whimsical wishing well and soaking in a luscious outdoor bath in a private luxury garden villa. Complete your relaxation routine with a signature massage. On top of these services, you will receive complimentary champagne and cupcakes amid the splendor of the lush water gardens.

Eau Spa at Eau Beach Resort & Spa provides a total sensory experience. With "Pause," you'll experience a personalized room with lavender and mint scents, chillout music, and a Pause collection scrub and polish bar. With "Play," experience energy and playfulness in a customized room with citrus and eucalyptus scents, and a Play collection for your scrub and polish bar as you listen to European lounge or upbeat music.

End your spa experience with "Perfect," focusing on a result-driven beauty treatment. Here, your experience comprises ginger and vanilla scents, and scintillating music that will make you feel beautiful. Nothing beats this customized experience.
Anushka Spa, Salon & Cosmedical Care Centre
If you're looking for a medspa that enhances your inner and outer beauty,
Anushka Spa, Salon & Cosmedical Care Center
is the place to be. This chic penthouse combines an exciting spa experience with a shopping excursion and an ocean view. With its 15 treatment rooms, a steam room, and a nail lounge, you're guaranteed unmatched relaxation during your visit.

There are various spa offerings, which range from body treatments and facials. Body treatment comes as a total package with massage, waxing, and skin rejuvenation. The uplifting services include micro-needling, dermaplaning, and eyelash emporium. Afterward, you can take care of your nails at the bustling salon or choose a more serene nail retreat.

This spa also offers more detailed cosmetic procedures ranging from body sculpting, laser treatments, botox, and injectable fillers. Medical professionals will work to create an individualized treatment plan customized to meet your desires and expectations.
Spa Palmera at the Boca Raton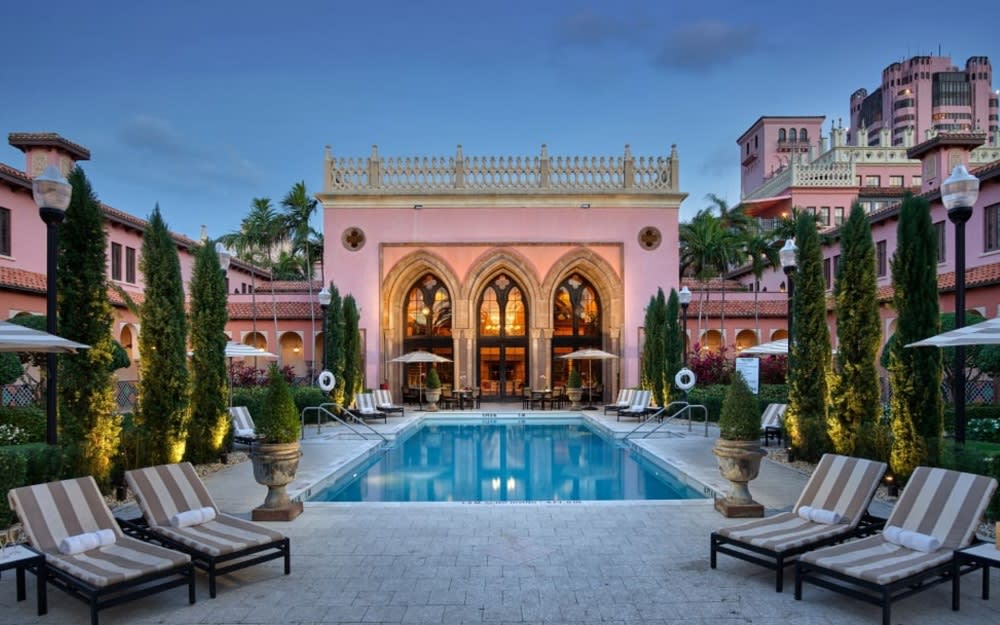 Photo Courtesy of The Boca Raton
Modeled after the famous Alhambra Palace in Spain, the
Spa Palmera at Boca Raton
elevates your spa experience to a place of high-end relaxation. This elaborate wellness oasis with 44 treatment rooms, a private spa pool, and a spa cafe offers an effortlessly relaxing atmosphere under the breezy palms.

You can experience a whole new you with revitalizing hair care, manicures, pedicures, exciting facials, and a complementary ritual bath. This refreshing communal ritual bath includes an aroma bath, a plunge pool, a Jacuzzi, and a Swiss shower. In the end, you'll have the chance to relax in the Great Hall by the fireplace or the secluded outdoor spa surrounded by a well-manicured garden.

Other services include the Hot Gemstone massage, which uses aromatherapy and gems for an awesome rubdown. The Abhyanga massage includes a slathering of warm oil coupled with a rhythmic rubdown. You can also try out the Restorative Body Treatment, which combines a CBD mud application, butter body wrap, scalp massage, and salt lavender scrub.
PGA National Golf Course Resort & Spa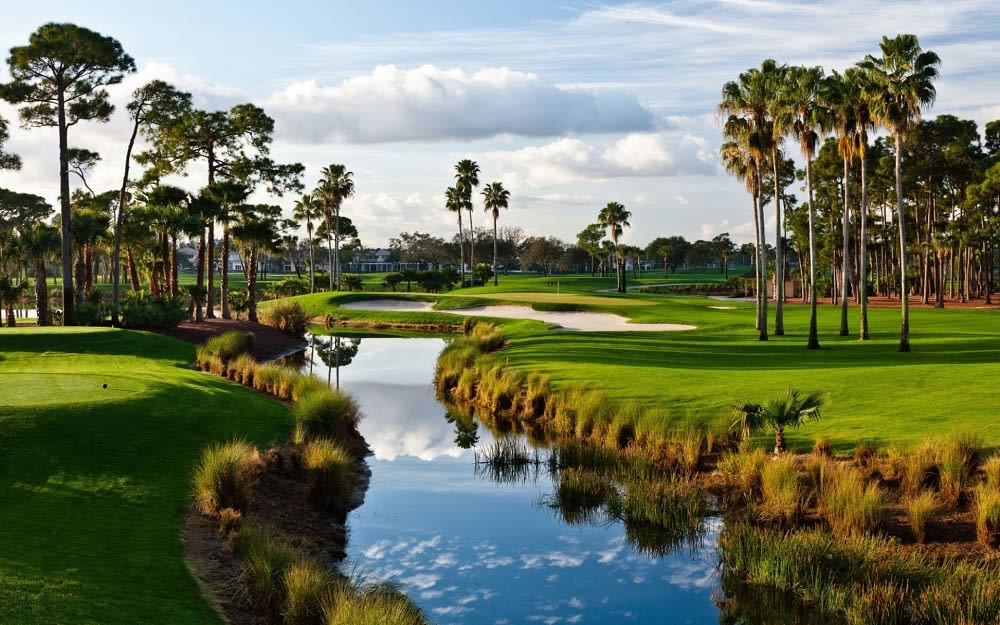 With a 40,000-square-foot European spa comprising nine swimming pools and 100 spa menu items, you're assured of relaxation. Visitors can indulge in facials, massages, scrubs and wraps, salon services, and makeup applications. Additionally, for a $50 charge, interested visitors can access men's or women's lounges, whirlpools, saunas, steam rooms, along with complimentary tea and fruits. Most spa packages are tailored to last for two to five hours and ensure that you achieve ultimate composure.
The Spa at the Four Seasons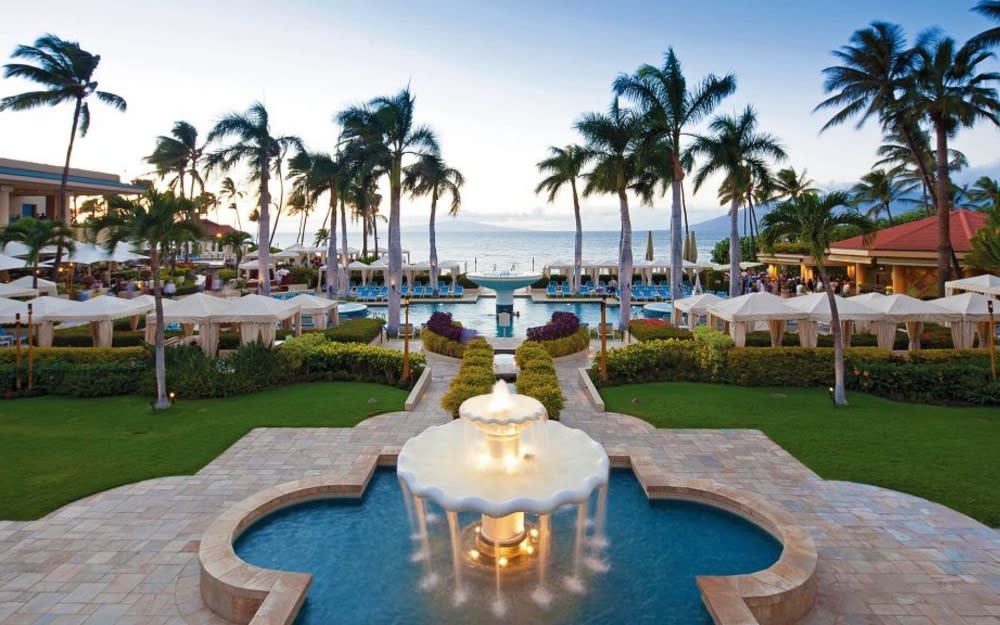 Photo Courtesy of Kiwi Collection
Look no further than
The Spa at the Four Seasons
for a rejuvenating retreat from the South Florida sun. As you enter this glamorous Spa, you'll be welcomed by a full-service salon and a grand staircase carved from a single marble slab.

This spa is defined by an 11,000-square-foot area decorated with coral-inspired fixtures and custom-painted seagrass wallpaper. Design elements were all drawn from nature's soothing beauty. In the cream and blue reception area, walls are hand-painted to appear like stone, and the table is set with fruit-infused tea to guarantee the most welcoming feel.

Try the signature 80-minute treatment that uses various techniques, essential oils, and heat packs to relieve your tension. The Spa at Four Seasons also offers a rejuvenating stone massage that uses cool marble stones and warm basalts to relax your muscles. If you're seeking a quick treatment, consider their 25- or 50-minute Beach Break, which focuses on the back, neck, and shoulders. Pregnant mothers can also enjoy a prenatal massage. This locale also offers add-ons such as reflexology and Moroccan oil scalp massage to help you find your zen.
Si Spa at the Palm Beach Marriott Island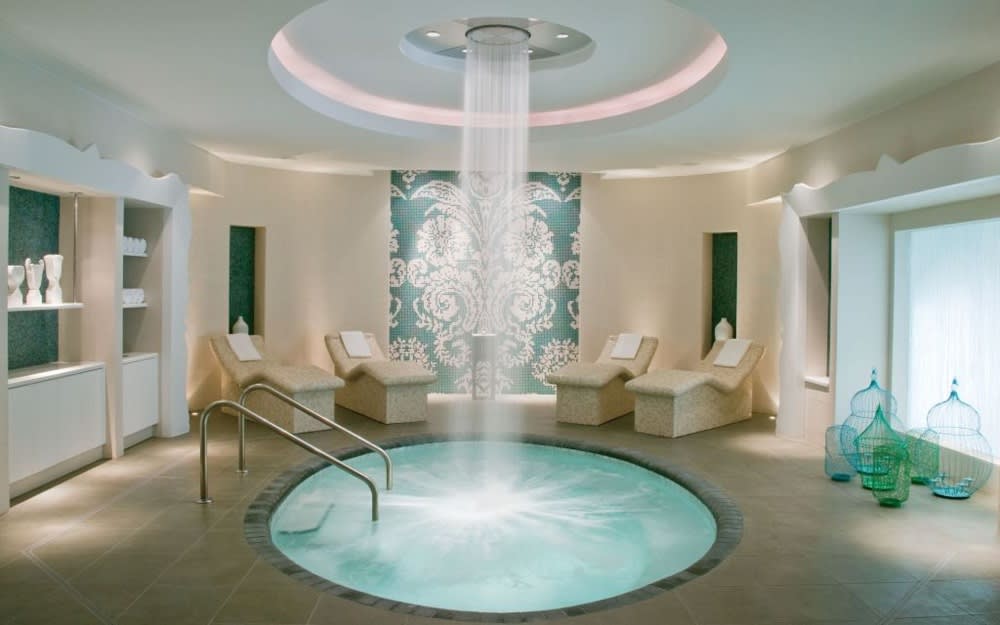 As its name suggests,
Si Spa at the Palm Beach Marriott Island
focuses on ocean-inspired services, such as seaweed body treatments. This location features 8,500 square feet with eight treatment rooms designed to pamper your body with the ocean's healing power. Amenities include heated marble beds, a spa patio, a boutique, and steam rooms that offer unmatchable tranquility.

Here, visitors can enjoy various treatment services, including the Goddess of the Si package. This package includes a 50-minute massage that leaves your body feeling refreshed from head to toe.
Spa at the Seagate Hotel
The
Spa at the Seagate Hotel
was designed to provide an ideal environment that promotes relaxation and renewal. Guests can enjoy access to the hotel pool, fitness center, tranquility room, and a whirlpool in the 8,000-square-foot area.

There are a myriad of services to choose from, including celebrity-favorite HydraFacial, which removes dead skin through hydra-dermabrasion and a gentle peel. Guests can also enjoy modern facials such as the SeaCreation anti-aging facial and additional perks for the lips and eyes.

When it comes to massage, you can enjoy full pampering with a 60-minute energizing aromatherapy massage, a 30-minute pink mud sublime scalp massage, and a 60-minute Vitamin Sea radiance facial. These options create 2.5 hours of exquisite calmness and serenity.
Tideline Spa at the Tideline Ocean Resort
A two-time winner of the Conde Nast Traveler's Readers' Choice award, the
Tideline Spa
offers optimal relaxation. Here, visitors can choose from dozens of spa services in a 6,000-square-foot retreat with seven spa rooms.

Their seasoned spa professional staff offers holistic spa services, including signature treatments, massages, nails, facial/skin treatment, waxing, haircuts, and shampoo blowouts. These services come as a package offering between 2.5 to 5 hours of relaxation.
Amrit Ocean Resort Spa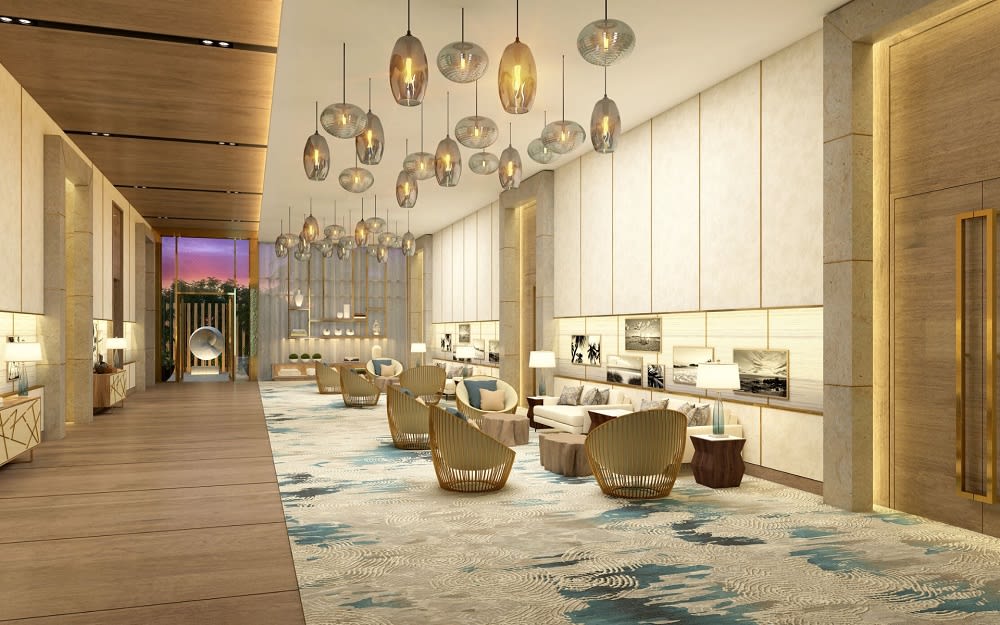 Photo Courtesy of PhotoBook Magazine
As the newest Spa in West Palm Beach, it's worth mentioning the
Armit Ocean Resort Spa
. This 100,000-square-foot spa combines luxurious indoor and outdoor spaces for the most rejuvenating experiences. To guarantee complete relaxation, you can enjoy their exclusive "Aayush Hydrothermal Experience" that combines heat therapy, cryotherapy, hot and cold bathing sequence, hydro-reflexology, and inhalation salt therapy.

This locale also offers a wellness zone with a complementary mix of practitioners, acupuncturists, osteopaths, nutritionists, and hydrotherapists who combine western technologies and personalized wellness journeys for guests and residents. You can also indulge in body therapies, such as extensive hair and scalp rejuvenation and an array of fitness classes.
Regular visits to nearby spas, or indulgences for special occasions, can help you keep your body, mind, and soul tuned, toned and relaxed, and ready to move through the world with more ease and poise. If you're interested in a luxury home in West Palm Beach, within a short distance to any of these amazing spas,
Darlene Streit
is the perfect realtor for consideration. Contact her today via
email
or call her at (561) 531-2727 to find your dream home in beautiful South Florida.

*Header photo Courtesy of Eau Spa




SHARE THIS STORY