After a long day, there's no better place to relax than in your Palm Beach home's luxurious master bathroom. With a few simple upgrades, you can create the relaxing atmosphere of your favorite spa right in the comfort of your own home. Read on to learn more about how to upgrade your master bathroom into one worthy of a luxury spa.
Luxury trends to feature in your master bathroom

Your bathroom doesn't have to be a solely functional space. With just a little extra work, a master bathroom can be upgraded into an oasis reminiscent of your favorite spa! Here are some top luxury trends to incorporate into your bathroom for the utmost relaxation.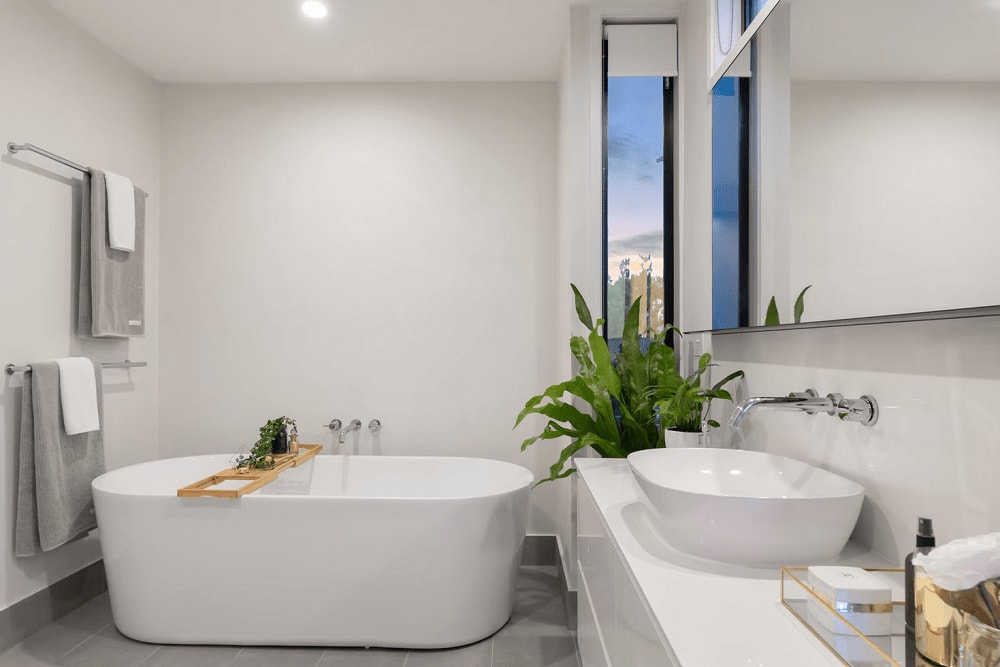 1. Bathe in luxury

From freestanding to claw-foot, luxury bathtubs are all the rage. Depending on your personal style and desired feel for the space, choose from a corner tub, freestanding tub, or garden tub. For an authentic spa experience, look into a soaking tub, which is available in various designs; these tubs are characterized by their depth, which allows for the ultimate in relaxation.

Luxurious bathtubs can also add an aesthetic appeal to your master bathroom. Freestanding garden tubs can serve as the space's focal point, able to be installed anywhere that plumbing is accessible.

There are plenty of ways to ensure your bath experience feels as soothing as possible. If you suffer from back pain or just want to relax your muscles after an energizing workout, supplement your bath with scented Epsom salts or bath bombs, readily available at your favorite grocery store or drugstore. You may also consider adding a bathtub caddy to your setup. This popular item functions as a horizontally-fitted tray across the tub, creating a tabletop for you to use during your relaxing soak. Safely use your iPad to catch up on your favorite Netflix show, or prop up a favorite book. Feeling under the weather or just in need of an extra boost? Brew a cup of tea or prepare a refreshing glass of ice water to rest on the bath caddy. You can also use scented candles to create a spa-like atmosphere; scents like lavender and jasmine are particularly soothing.
2. Update paint colors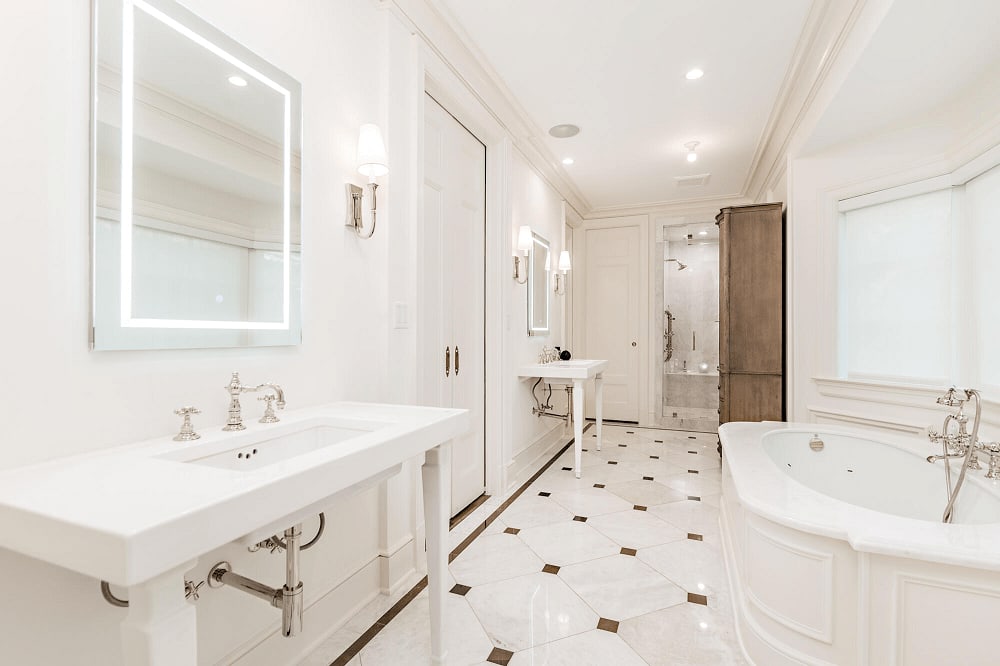 Neutral colors are a current trend found in luxury bathrooms, with stark and pristine whites, deep and dark blacks, and calming grays commonly found in high-end listings across the country. To maintain this luxury atmosphere while trying something new, consider adding some bright colors to the master bathroom of your Palm Beach home.

Bring the beauty of the beach into your space by incorporating calming blues, earthy greens, or brilliant yellows. When contrasted with stunning silver or brass fixtures, these color updates can truly create a gorgeous bathroom space! Bright and light colors work well in the bathroom, after carefully considering how much natural light comes in through your windows.

When designing your master bathroom, you'll also want to think about the colors used in your master bedroom to ensure a cohesive feel and natural flow. If your bedroom has a neutral color palette, you may not want to deviate from this; stick to whites, tans, and grays with the option to add a splash of bright color through wall art, towels, or accent rugs. However, if your master bedroom features fun and lively colors, you can continue this trend in your bathroom by sprucing up the paint, tile, and accents.
3. Add some warmth

Even in sunny Palm Beach, stepping out of a hot shower into a relatively freezing cold bathroom can be uncomfortable. Consider investing in radiant-heat flooring! This system is installed below your bathroom floor and is controlled via the thermostat; it works well underneath typically cold surfaces like stone or ceramic tile.

When installing flooring, you can expect it will take at least several days. Consult with professionals if you don't feel confident tackling this project yourself. A professional installer will be able to take all safety protocols and double-check everything; in a bathroom where lots of plumbing and water is involved, you'll want to ensure everything is up to code.

If you'd rather not upgrade your entire flooring, there are plenty of other ways to warm up your master bathroom. Add a plush memory foam bath mat by the shower or sink, ensuring that you have something soft to stand on as you get ready in the morning. You can also add cozy area rugs or seating in the form of a plush bench or chaise. A heated towel rack is another perfect touch to create a comfortable space, allowing you to wrap yourself in a warm, soft towel as soon as you step out of the bathtub or shower.
4. Incorporate greenery

Keep your luxurious Palm Beach home connected to the natural world by adding tasteful plants to the master bathroom. Don't want to spend time watering greenery throughout your home? Low-maintenance plants like succulents are incredibly popular as they require minimal watering and attention but still add a gorgeous touch to your shelves or countertops.
You might also opt for an
air plant
, known for their elegant simplicity, chic aesthetic, and no-hassle maintenance level. With options from chic hanging plants, natural wood containers, or stunning glass-blown terrariums, there's a stylish plant to fit any mood you want to create.
5. Brighten with gold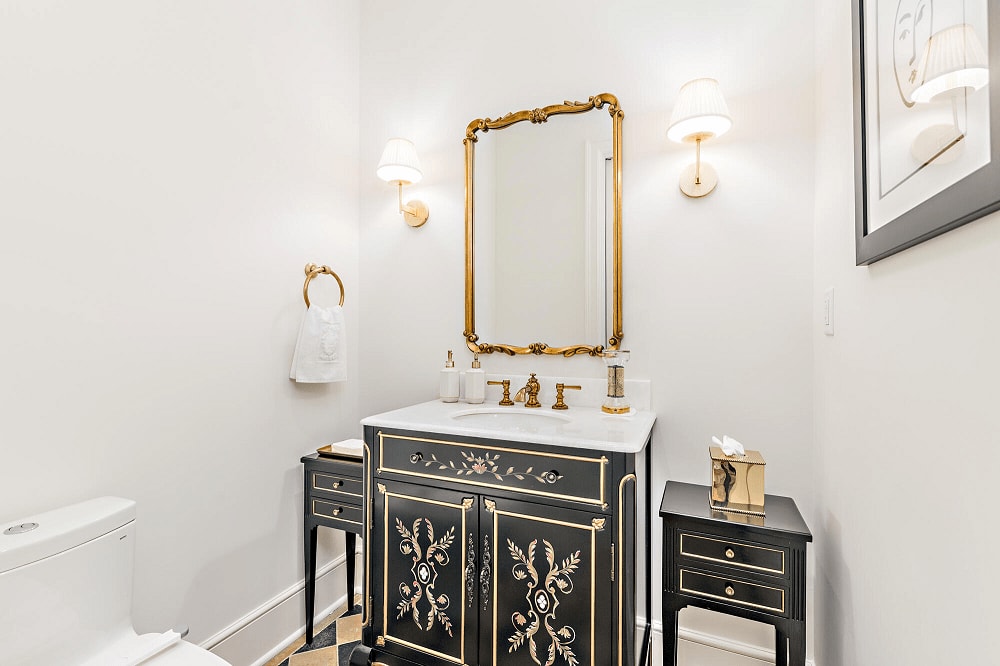 One of the easiest bathroom upgrades to perform is swapping out hardware, and what's more luxurious than gold? Browse your favorite local hardware store for golden accessories like drawer handles, pulls, faucets, and even doorknobs, and swap them out to create a gilded, luxurious look. This is an update you can easily perform yourself, and it will be an absolutely stunning addition to your Palm Beach home.
6. Get creative with storage

It's hard to feel relaxed in a cluttered bathroom. A messy space can make you feel stressed, taking away from the luxurious atmosphere you're trying to create. Fortunately, there are plenty of great solutions to declutter your master bathroom and get organized.

Looking for an easy update you can do yourself? Install some trendy but straightforward shelving. This is an especially helpful solution if you're working with a smaller space. Incorporate several tiers of open shelving, perfect for both function and aesthetics. You can use this space to store folded towels, soaps, and extra toiletry products, or decorate with candles, small plants, and framed photos.
7. Walk-through showers

Unlike the traditional walk-in showers consisting of a frameless or framed glass panel, walk-through showers offer palatial comfort enclosing the shower area. The entire shower area is fully-tiled and open — like a shower in the jungle or the beach. This style is modern and stylish, especially when you add rainfall showerheads.

Rain showers are an elegant and rejuvenating addition to your bathroom. The equal water distribution across your bathing area helps you relax your body, mind, and soul as the feature mimics rain.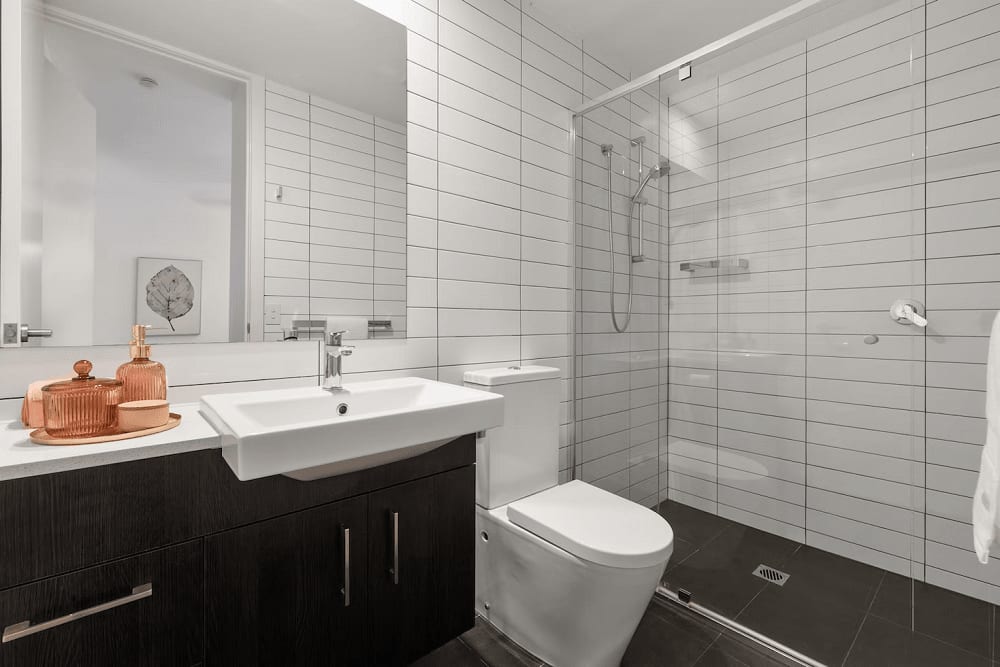 8. Upgrade your toilet

You may be interested in upgrading your standard toilet to a more luxurious option, creating a boost to the space's aesthetic and additional functionality. There are a variety of options from which to choose, whether your style skews more modern, traditional, or trendy.
Type of toilet

First, you'll choose from a one-piece or two-piece toilet. The two-piece toilet has a separate tank and bowl, while the one-piece toilet has a single bowl attached to the seat. This version is less common and more expensive.
Flush option

You might decide on a toilet with a pressure-assisted flush option, which includes a compression tank in addition to the water tank. This provides additional pressure to pull the water down.

After pulling the flush lever, gravity flush toilets take advantage of gravity to release water from the tank. The dual flash allows you to flush the toilet based on your level of need. The toilet has two buttons set at the top of the toilet bowl, and the dual flush uses water efficiently.
The
NeoRest 750H
is a luxury toilet that might be the ultimate investment for your luxury bathroom. The Japanese manufacturing company, Toto, has created this masterpiece to include an automatic raising lid, a remote-controlled bidet, and a heated seat. Other fabulous luxury options include the high-end brand
INAX
, which features top-of-the-line toilets with a sleek, modern feel and high-tech features.
Is it time to upgrade and find your perfect luxury home with Darlene Streit?
Maybe an updated bathroom just isn't enough, and it's time for a whole new lifestyle and home living upgrade. When you're ready to explore options for more luxurious living, it doesn't get much better than Palm Beach, Florida. Experienced luxury real estate agent
Darlene Streit
knows this, and can guide you to the perfect home that matches your aesthetics, needs, and desires. If your next step is to look at homes for sale in Palm Beach or South Florida, Darlene will expertly select a portfolio of listings for you to view, based on all your preferences, wants and needs. She will be a trusted and powerful advocate for you, from the very first meeting, through inspections, negotiations, and finally to a successful closing. Reach out to
Darlene
today and embark upon your new home search with an experienced, top-rated professional on your side.
SHARE THIS STORY