With beautiful weather — an almost constant occurrence here — most every Floridian wants to spend time outside. You might say it comes with the territory. And if you've got a spacious, inviting home, it's a joy to make friends and family part of that experience.

Do you want the best possible backyard for hosting guests? What about times you'd like to lounge, exercise, or meditate alone? Could your front yard use some love? The following suggestions and ideas are a jumping-off point to improve your existing outdoor space — or add brand new features. The favorable climate means more possibilities are in play. So with thoughtful planning and an eye for detail, you can easily upgrade the exterior spaces of your home into a luxurious Southeast Florida sanctuary.

Read on for the latest in fashionable landscape design.
1. Functional landscaping

Features like paths combine decorative aspects in service of a specific function.
Deluxe walkways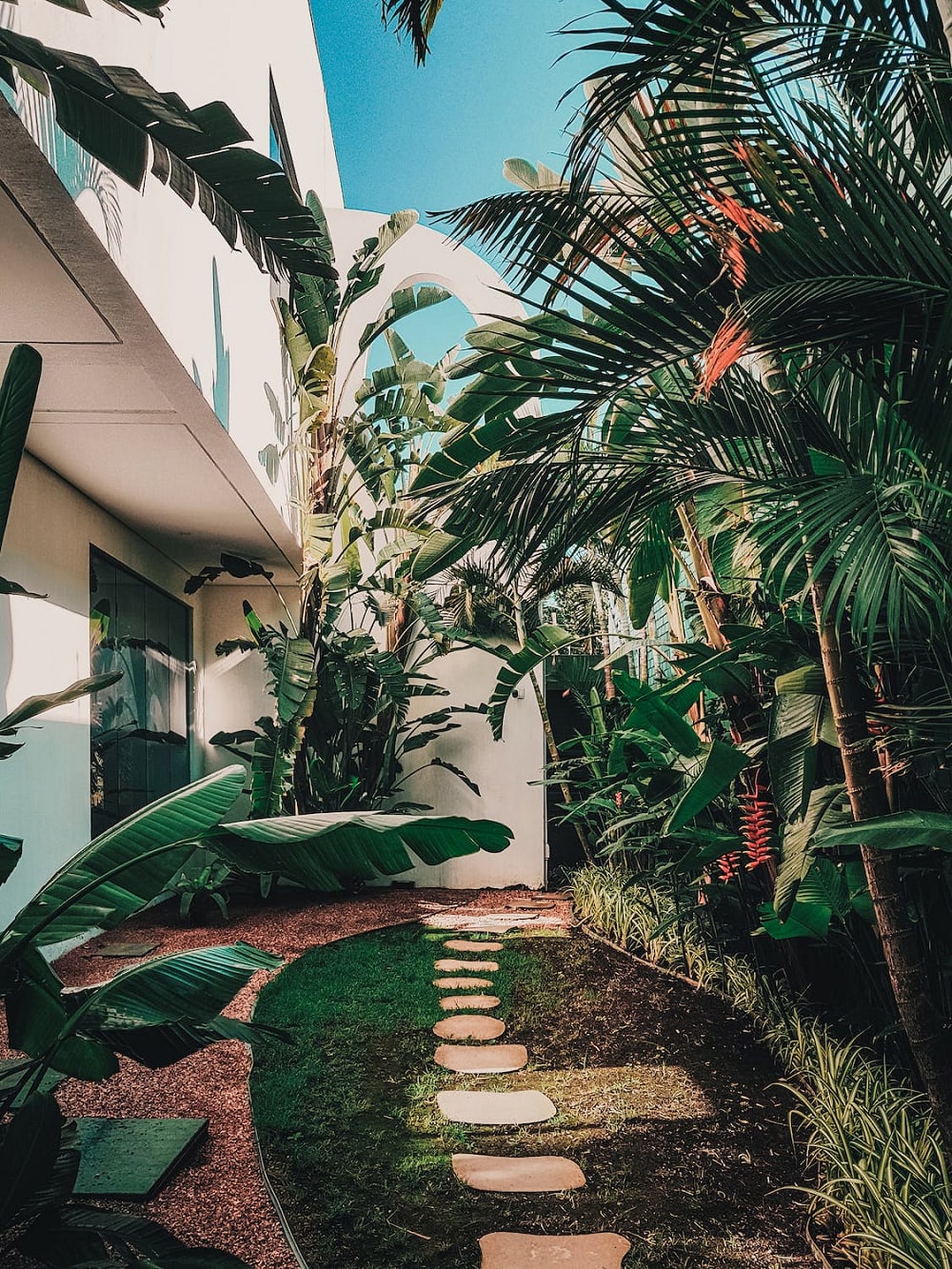 Chances are you've visited someone's house and taken a side path to the backyard rather than go through the house. When people visit you, they'll appreciate a well-grounded pathway.

Regarding pathways, your two main avenues are solid walkways and stepping stones (or some combination thereof). Before you choose materials, remember that paths do more than connect the house to the pool, the deck to the garden, etc. They also subtly complement the style of your home.
According to HomeAdvisor, a 300-foot natural stone patio can cost
up to $15,000
for materials and labor. It's unlikely your path will take up as much space as a patio, but stone walkways cost about the same per square foot.
A modern favorite, tinted concrete is a good choice if you want a basic, solid walkway. You could choose brick for stepping stones or add flair in the form of flagstone mosaics. The possibilities are
seemingly endless
, but again, the best paths will jibe with the aesthetic of your home and whichever outdoor areas they connect.
Grill stations
Southeastern Florida's warm and sunny climate is perfect for backyard barbecues. It's common to see modern, luxurious barbecue areas, which have evolved from the modest, traditional charcoal-burning grills of the past. The best grill stations elevate barbecue with food prep areas, built-in sinks, electrical outlets, and
pergolas
for shelter.

If you're a grill master, build an outdoor kitchen incorporating pizza ovens, a countertop, island storage, a bar, and elegant eating space. This will create a more interactive and entertaining space anytime you want to entertain guests for dinner outside.
Before you install an elaborate grill area, solve practical problems like
what kind of grill
you want (
smokers
,
rotisseries
), where to place the grill, and which way your seats will face with respect to the sun. If you'd like the flexibility of moving your grill, buy a freestanding grill that you can roll to safety after usage.
HomeAdvisor estimates the cost of an outdoor kitchen to be between about $5,000 and $25,000,
rising past $100,000
with additions of luxury features. Set your budget and decide
what kind of grill
you want. When in doubt, start with the basics — you can't go wrong with a quality grill and a nice set of patio furniture.
Swimming pools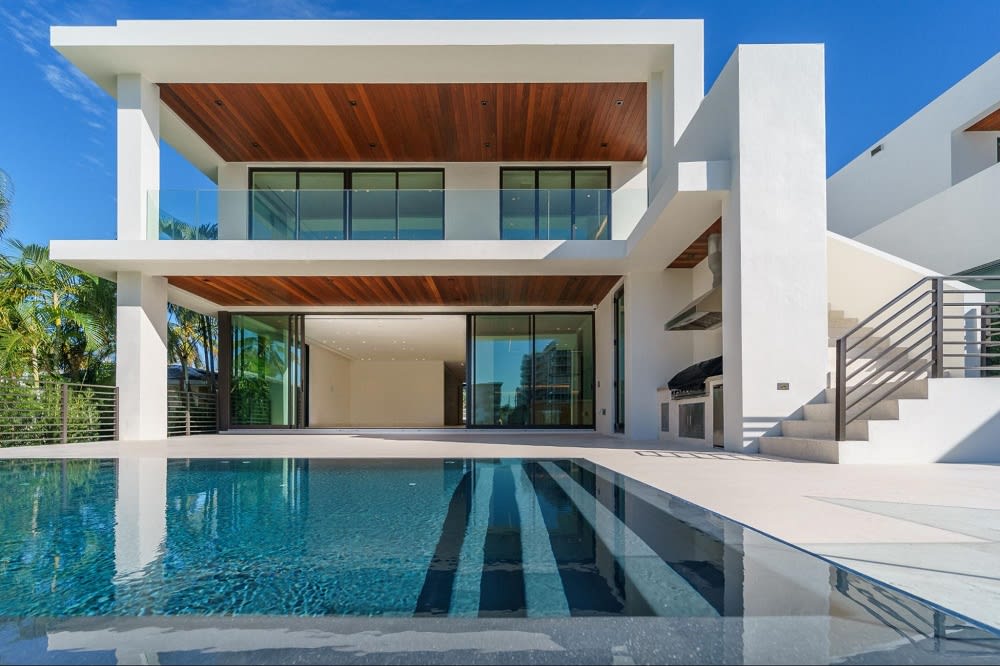 Like backyard grilling, the swimming season lasts most of the year in Southeast Florida, so pools are worthwhile investments that will add style and substance to your house. Luxury pools range in size and design: the three main types currently in vogue are infinity pools, lap pools, and freeform pools.
Infinity pools
give the best views, lap pools fit well into narrow spaces, and
freeform pools
accentuate the style and shape of your yard with curves and lines.
According to HomeAdvisor, the typical cost of an infinity pool is
$80 per square foot
, which translates to the low six figures for a 1,500-square-foot pool.
Lap pools cost less
, while prices of freeform pools vary depending on space and special features.
Once you've landed on your desired pool style, you can get even more creative with certain aquatic features. For example, waterfalls keep pools cool in the summer, and
scuppers
achieve the same functionality in a less visually dramatic way. To really up the ante, a submersible spa with a heater is the epitome of comfort, and underwater LED lighting transforms pools for nighttime swimming. And outside the pool, you could even install sand, hammocks, and palm trees to create a distinctive tropical vibe.
High-end furniture

Furniture is crucial to outdoor spaces, like outdoor kitchens and luxury pools. If you're living in Florida, you can be outside in your Japanese garden, relaxing spa, or multipurpose backyard spaces year-round. Be sure to choose the right furniture and design to create an outdoor living space where you can work, relax, and enjoy the breeze and sunshine all during the year.
Design
Like deluxe walkways,
high-end outdoor furniture
can blend in or stand out. The type of furniture you need depends on variables like how much space you have, whether children are in the picture, and how you want to relax.

Remember the design principle that form follows function. For instance, look for complementary dining tables, picnic tables, and side/end tables to elevate the style of the area purposed for entertaining and dining al fresco. Look into daybeds, hammocks, and lounges if you just want somewhere to relax or nap. Once you define the purpose of any given space, you can focus on the style and comfort of your furniture.
Placement

How you place your outdoor furniture affects the flow of your landscape design. For instance, if you want to set up an outdoor dining space, arrange the tables and chairs near your home's door or kitchen to ease the transportation of food and beverages.

For an outdoor fireplace, look for cozy seats and chairs to arrange around the fire pit, making it the design focal point and source of warmth on chilly nights. For a space to relax, place the lounge chairs under an arbor or cabana to create shade and filter sunlight. Keep your outdoor furniture away from direct sun exposure when possible to increase its longevity.
Color and texture

The color and texture of your furniture tie your landscape to your outdoor space. The landscape's tropical plants provide a bounty of vibrant colors and textures, so avoid conflicting patterns and colors if necessary, and keep your furniture choices classy and straightforward.

Work with the dominant colors contained in your landscaping and choose cushions and pillows that contrast or accentuate these colors. Try not to overdo colors and textures with your pillows and cushions, or the space might begin to feel cluttered. Bold colors can work beautifully at times, but neutral ones are perfect for letting your flowering plants take center stage and showcase your landscape's appeal. Hardscaping also plays a crucial role in adding to textural interest of your landscape and may give you the starting palette to design upon.
For inspiration, as you narrow down your choices, peruse
this collection
of luxury outdoor furniture brands. The list spans a wide spectrum of designs and outdoor furniture, from sophisticated color combinations and materials, to rugged fire pits, to timeless and classic all weather furnishings.
2. Decorative landscaping

Grill stations and swimming pools are primarily functional spaces you can personalize to add style to your luxury backyard. Walkways and furniture also are useful landscape features that double as aesthetic pieces. Conversely, some design elements are primarily decorative — sculptures and fountains are details whose sole purpose is to enhance the look and feel of your outdoor spaces.
Sculptures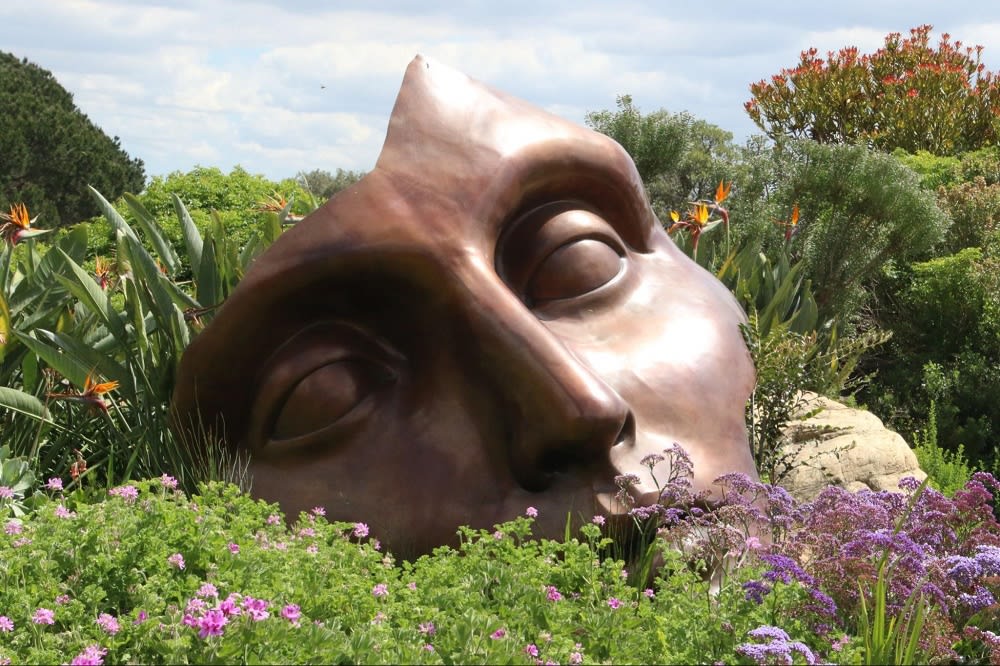 Garden sculptures can intensify your exterior's appeal and uplevel your already lovely garden into an artistic masterpiece. Some sculpture ideas that are popular to use include:


Modern, kinetic sculptures that move with the breeze
Origami-style metal horses, stone lion sculptures, or antique bronze animals
Classical or modern figures or angels
Colorful abstract sculptures
Mythological or iconic beasts to create a fantasy environment
Sculptures shaped from hedges
Adding sculptures can open a whole new world of artistic expression in an ordinary garden bed or lawn area. They can enliven your landscaping and spark conversations. To start your sculpture search, look into online marketplaces and local art galleries.
Fountains

Nothing evokes tranquility and calmness in a backyard like garden fountains. Whether large or small, a fountain in your outdoor space automatically adds enjoyment to your backyard.

There are several ways to incorporate fountains within your yard. A fountain could be of the standalone variety and double as a birdbath or a sculptural accent. A flowing-water fountain and stream bed can delineate areas of your garden. A natural fountain cascading over hardscaping made of rocks and boulders create a natural look. You could even design a labyrinth of garden paths that begin at the fountain and meander outwards towards your house. If you choose a fountain with a large basin, you'll add a pond and create a botanical oasis.

Before you settle on a specific design for your fountain, analyze your space from different perspectives to help determine the best place to set it up.
Lighting

Lighting sets the mood and creates drama and wonderful focal points while also serving to illuminate your pool, grill station, pathways, and driveway. Here are a few factors relevant to outdoor lighting:


Look for lighting fixtures that direct light downward so you're not creating light pollution
Highlight architectural features of your home and illuminate walkways
Use carefully placed uplighting to spotlight trees, shrubs, sculptures
In short, installing proper lighting means you and your guests can easily navigate your yard in the dark and enjoy the beauty of your home's outdoor areas even at night.
3. Natural landscaping

Your backyard can be a place of contemplation and serenity. Natural landscaping elements and free-form gardens can help make all or part of your yard a perfect place for relaxing and contemplation, while also creating a low-maintenance ecosystem that blends with nature.
Walled gardens

Walled gardens offer a traditional design, provide shelter from wind and frost, and maintain privacy. Besides these practical benefits, garden walls can be an ideal spot for ivy, flowering vines or a fountain. Combine your wall fountain with a sculpture and plants to instantly elevate the space with a soothing, artistic design.
Pro-approved plants

Before buying plants for your front yard, research what grows best in your particular climate or micro-climate. Amount of sunlight, water needs, and temperature requirements all factor in. Below are a few recommendations to look into:


Loropetalum or the Chinese Fringe flower
Gold-mound duranta
Crotons
Azaleas
Asiatic jasmine
Lily of the Nile for a tropical effect
Things grow fast in Florida. When picking your plants, think of their size at maturity. Otherwise, you'll have an overpowering plant (or ten) that are too big for your landscape!
Find your perfect luxury home with Darlene Streit
It's much easier to create the perfect Southeastern Florida landscape if you have a property that gives the flexibility you need with your designs.
Darlene Streit
is a proven professional and a top Realtor who can find the ideal luxury home for you. With her years of experience, you're sure to find a home with a gorgeous and appealing landscape, or one with lots of potential that can fulfill your artistic vision.
Contact Darlene today
.
SHARE THIS STORY